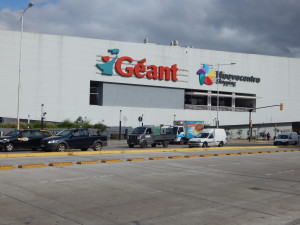 Children always seem to outgrow or ruin perfectly good clothes in a short period of time. It is especially difficult to keep up with buying the right clothes when one has 7 children to look after! Last Saturday I went to the mall here in Montevideo (called "Shopping" by the locals) to buy some pants and shorts for our boys. The process involved the inevitable and dreaded dressing room (which all young boys love, right?). As the boys were trying on clothes, I spoke with the employee working at the dressing room.
The man was friendly and looked to be about 50 something years old. As we were talking I shared that I work with the church and am a pastor. That is something I have to get out right up front because every new person I meet wants to know why we have come to live in Uruguay. Actually, it is a great opportunity to start conversation about the Lord or about their beliefs. I get all kinds of responses varying from the surprised exclamation of "oh!" to the apathetic change of topic – which must signal a desire on the part of the person that they are not interested in the things of God. In this case the employee seemed pleased and shared with me that his granddaughter had been sick with a brain infection a few months ago. It looked very serious and they thought she would not make it long. But God in his mercy allowed her to recover and she is well. He shared that the doctors all say it must be some kind of miracle and he seemed thankful to God.
In my limited time with him we were not able to get into all the details of his personal religious beliefs nor an explanation of the gospel message, but I was able to invite him to church. He indicated he might be able to walk over after work on Sunday and visit the service. We pray that the Lord will indeed lead him to come and hear from God's Word. Though not every conversation in public hits all the main points of the gospel message or draws out the details of the person's personal beliefs, seeds are planted and the conversation can usually be directed to the Lord in some way. In this case there was the realization that the Lord God is the one responsible for the healing of this man's granddaughter and I was able to give him a gospel tract with my phone number and the church web site. God is at work in all kinds of ways!