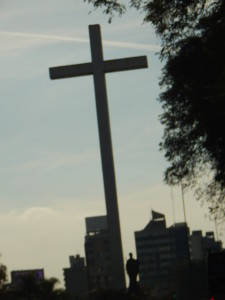 Our missionary teammates departed for furlough and left us their car to use until they return in 11 months. After having lived 13 months without a car, this gives us a chance to see what life is like for those in Uruguay who have a car. It also adds certain responsibilities like driving safely in a place where the rules seem crazy at times as well as taking care of regular maintenance like purchasing new tires. This was the task that I set out to do, not realizing at first that I would once again be in a taxi talking with the driver about the things of God.
It was a crazy morning. I had to arrive at the garage early to drop off the car, catch a taxi back home, pick up Michele, take her in a taxi to the hospital for a pregnancy checkup and then drop Michele home via taxi and take same taxi to the garage to pick up the car! Thankfully everything worked out smoothly and now we have four new tires and assurance that our baby's heart continues to beat normally!
One unexpected encounter was with the first taxi driver, though God is sovereign and nothing is a surprise for him. As usually happens around here, people want to know why we are living as foreigners in a foreign land. I told him that I am a pastor and we are working here with the Church. This is the point where I get to share about what kind of church it is and where and when we meet (in case the driver wants to visit). After sharing that, I asked him if he went to church. His answer was not surprising, knowing that Uruguay is the most secular nation in the Americas: he does not attend church and has no interest in doing so.
"Really?" I said, "Do you believe in God?" That started a conversation which lasted all the way home about God and what is historically known as the problem of evil. The problem is usually put two ways: Continue reading God and the Problem of Evil →