We had been visiting from church to church, on the road and far from home for several months. We were in South Carolina. Sunday morning arrived, and we did not have a church to speak at, and is our custom, we planned to visit a local Presbyterian church. No one at the church knew we were coming, but we were happy to just be refreshed and worship with God's people.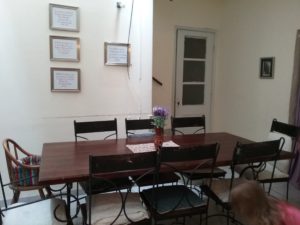 After service, one of our children struck up a friendship with another girl. This girl invited us to her home for lunch, and then went to ask her parents. Her parents were delighted and invited all nine of us for lunch. As might be expected, the house wasn't spic and span. The mother brought a variety of very delicious food out, possibly because they didn't have one unified meal to serve such a large group with so little notice. This was unplanned hospitality, and we were blessed and humbled to share a meal with this precious family.
I have written on hospitality a few times before. In this post, I want to introduce a delightful book on the subject called "The Family Meal Table and Hospitality" by Nancy Campbell. This book is a classic in my library. It is one of the few books that I brought with me when we moved to Uruguay. The first two-thirds of the book covers the family meal table. Campbell encourages us to restore the tradition of families eating together around the table. She describes the teaching, the fellowship, the encouragement, the family devotions, the prayer of blessing, the celebration, and so much more, that makes up this deceptively simple act.
And while the family meal table is more about strengthening the life of the family, it really serves as the basis for hospitality. It is difficult to share the fellowship around your table if eating together is not a regular practice in your home. When we invite others into our home, we are allowing them to come into the sacred space of our family. We hope it is here that they can witness the love and power of the Gospel. It just makes sense that we share what we know, what we practice on a regular basis.
The last part of the book is all about hospitality. It is clear the author knows her subject well. She shares both the scriptures that speak about it, but also wisdom from a lifetime living out that of which she writes. I love the combination of Scriptural admonitions and practical ideas. One of her suggestions that I have used is to invite small groups, especially singles, at those times when life is overwhelming and we don't have much extra to give. One extra person at the table is a baby step that can be practiced by anyone. She is careful to both plant a great vision for hospitality while also keeping it simple and doable for all. Hospitality is not just for those with a special gift, or those with extra time and money. It is for all believers. But that doesn't mean everyone has to be practicing hospitality on a grand scale. Nancy Campbell shares creative ideas for simple ways to incorporate hospitality into your life.
Another treasure in the book is the list of helpful etiquette for being on the giving and receiving end of overnight hospitality. I remember how nervous I was the first time I stayed overnight at the home of a family I had never met. Would I be uncomfortable? Would I say or do something offensive? I think this list of etiquette is worth the price of the book alone for anyone who stays in peoples homes as they travel. Many of us did not grow up having strangers stay with us, and yet we are reviving this tradition in our own lives. The author is full of real life experience that she shares so that we can avoid some of the worst mistakes.
Some books on hospitality give off the impression that you need to be a Martha Stewart in order to practice hospitality. Not this book. She encourages developing a rich practice of fellowship around the family meal table, and extending this practice to others around you. It's focus is on humble, simple service. She gives lots of practical ideas–some may inspire you, some not so much. Take what you think will enrich your practice, and leave the rest behind.
If I could have added something, as a missionary, it would have been a chapter on the multi-ethnic table. She did not mention this, but it would have been a wonderful addition. Indeed, families eating together is a part of every culture throughout all of history, as is the practice of extending the table for visitors. Because of this, hospitality can be shared with immigrants, international students, refugees, and any people who are different from ourselves. While the details of how food is served, or what types of food is presented differs from place to place, the practice of hospitality, lovingly given, knocks down barriers of cultural and racial differences, and even of language barriers. Before we became missionaries we had at times had international students over who spoke very little English. It was surprising how well we were able to communicate. Face to face in front of food really helps fill up awkward silences. Communication can take place with gestures and whatever limited vocabulary is known. This simple act of sharing a meal has the power to speak volumes about love and concern, and is especially meaningful across ethnic, cultural and language barriers.
"My longing is that every Sunday (or Sabbath, depending on when you worship), every family, or even single people, would invite someone back to their home for a meal after the church service…I look forward to the day when there is no one left at church to invite home for a meal because everyone is going to someone's home! I believe that this could bring revival to our churches."  ~Nancy Campbell, The Family Meal Table and Hospitality