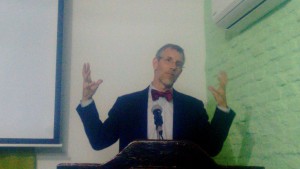 "Uruguay needs what this conference has to offer," said a missionary to Ray during our Reformation Conference. He was referring to the solid Biblical teaching that was the center of the conference that Montevideo's two Presbyterian churches put on jointly. Indeed, we have heard exciting news from surrounding countries in South America–Brazil, Argentina, Paraguay and others–of a great resurgence of Bible-centered, Reformed theology. Too often false teachings, a focus on great signs and extraordinary experiences, and a lack of Biblical knowledge have been running free through the evangelical world in Latin America. But the Holy Spirit has been at work as well, creating a hunger and thirst for God's Word. It is to this end that the second annual Reformation Conference has been hosted in Montevideo as a way to provide education on the basic foundation of the Protestant Reformation, calling all Christians back to a faith that is focused on Christ alone, faith alone, grace alone, Scripture alone, to the glory of God alone. Iglesia Presbiteriana del Uruguay, offered their facilities for the venue and Dr. Charles Telfer, Professor of Biblical Languages at Westminster Seminary in Escondido was our speaker. He lectured about the work of John Calvin, Johannes Cocceius and the little known reformer Campegius Vitringa – highlighting their contributions to our understanding of the Bible and theology as well as their commitment to truth.
It was exciting to see not only church members from Montevideo, but also some brothers and sisters who traveled from other parts of Uruguay and Brazil to be blessed by a weekend of digging deep into God's Word. We were encouraged by the turnout. We pray that it will be a beginning to a great work that the Holy Spirit will do in this nation.
Indeed, since our church plant had its first official service on October 4, we have been seeing first hand the need for the Holy Spirit to be at work. October has been a busy month for our team. We are tired. But our hope is not in us. As we attempt to faithfully share the Word and try to love the people around us, we pray that our feeble efforts would be infused by the power of the Holy Spirit. And we invite you to join us in passionate prayer for this small nation – that many here would bow their knee before King Jesus, worshiping Him in Spirit and in truth.
As we get to know people in the community, we are struck by how few Christian believers we run into. However few there may be, God does have those "who have not bowed the knee to Baal." There is Claudio, a locksmith who works at our local tool store. He has a passion for Christ even in the midst of a workplace where he is  frequently criticized for his beliefs. There is a small Baptist church not too far from our house where a group of warmhearted brothers and sisters meet. Though it is encouraging that God has a remnant of his people here, we recognize that most of the people in our community are not believers. The majority of people feel free to piece together this or that belief from science, Eastern thought, or from what seems logical to them. Even devout Roman Catholics are not found too often. But our God has the power to save, and we pray and plead to Him for this people.