One week ago we had just returned to Florida from the Dominican Republic, a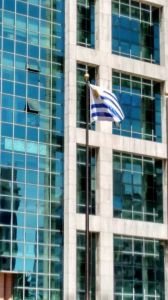 nd we were working hard at packing and cleaning to get ready to fly to Uruguay. Not surprisingly, our youngest had come down with a respiratory illness, and all of us suffered from an upset tummy from the food/water. But nonetheless, on Thursday, some friends drove 3 vans to the airport with us and all of our luggage (19 check-in, 8 carry-on, 9 personal bags, a stroller and a carseat) to see us off. With all the help, it didn't seem like too much stuff. So we got in line and our friends said goodbye. We expected just a routine, if slow, check in. Instead, we found that the airline would not allow us to fly unless we already had a visa to Uruguay (something we get when we actually arrive) or we had round-trip tickets, as a precaution to make sure if we were denied a visa we have the means to return home. Oops. I am not sure how we missed this requirement in our research or why the airline didn't mention it earlier, but here we were. We were informed that we could get refundable tickets and then cancel them later. But, refundable tickets are quite pricey, and we needed 9 of them. Thankfully we arrived at the airport quite early, so we were able figure out how to get credit for the large sum, and we were off! Although we still had plenty of time before take off, we felt a bit rushed. We had quite a bit of carry-ons, so we moved slowly through the airport. Over time our load seemed a bit lighter. I thought we had just gotten the hang of it all, but we were to find later that we actually lost a bag on the way!
Our flight took us from Orlando to Miami, where we were supposed to have a four hour layover, then we would leave Miami for Montevideo at midnight. So we hunkered down with our many bags and tried to make the best of the time. But at around 10:30pm, an announcement was made that the flight was postponed to the following morning at 10am. So, we were given food and hotel vouchers and had to make our way to hotel shuttle. Although the airline made it all quite comfortable, a group of nine with lots of luggage and little ones moves slowly, and it was midnight when we got lights out in our rooms. I quietly patted myself on my back for packing an extra outfit for everyone in the a carry-on bag. This is when we discovered there was a bag missing, and guess which one it was? We were disappointed, but thankful there was nothing truly valuable in the bag. The 6am alarm came early and we all got up. The shuttle seem small when your group take up half the seats, so we needed to get an early start.
We made it on the 9 hour flight without anymore problems. The flight was especially bumpy and Rebecca became airsick. Jeremiah came down with the cold that the younger ones caught in the DR during the night in the hotel. But at 9pm we touched down in our new home, Montevideo. Customs was very simple, other than the fact that there was no one to help us take our large quantity of luggage through. But our missionary teammate, Mark Richline was there to pick us up, and we drove us and our stuff to our temporary house.
We were very thankful, after our long trip, that the house was ready, waiting and in good order. It is a very large, very old house that has been artistically decorated and remodeled. It is a bit of challenge of a house for a toddler, but comfortable none the less. The Richline family brought us the groceries that I had requested. Very nice. Much of the food seems very different. The milk comes in small bags. The meat looks and smells different. The baking soda came from the pharmacy. But it was nice to have the food I had planned for us to use.
The next morning was Saturday, and we decided to walk around the city to try to find plug adapters, cell phone sim cards and a money exchange house. We live in the central, touristy part of the city, and so had no trouble at all finding everything we needed. It is a very beautiful city. Our house is also just minutes from the beach. Then Sunday we spent all day with the church plant. We very much enjoyed meeting many kind brothers and sisters. By Monday we were exhausted, and instead of getting better the littlest of our children were feeling sicker, and we all still have tummy trouble. So we decided to lay low, doing things like figuring out how to charge our phones/devices, getting more groceries, researching housing etc. The maid came (the house has maid service twice a week). That was great, except I didn't know how to make lunch with her cleaning for over 2 hours in the kitchen. So we went out and got some chivito sandwiches, which were delicious.
Now it is Tuesday. We are actively working on looking for a permanent house to rent, and trying to figure out how to get around with such a large group without a vehicle. These would be some of biggest prayer requests–that we would find a house quickly, that we could get what we need together for our visa application, that we would figure out the public transportation, that none of our children would get lost or separated when we go out, and that everyone would be restored to good health. Each day is full of stress, and even accomplishing the smallest tasks feel like a victory, but we know that each day we step out and learn something new is one day closer to feeling settled. And we know that the Lord is looking out for us and caring for us.