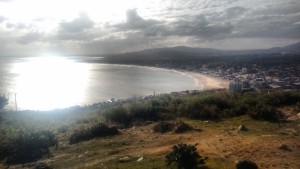 Incredible view! Despite my fear of heights, the trip up the chair lift to the top of a small peak in the Uruguayan resort city of Piriápolis was worth it. After several important meetings with visitors from the U.S., we took them on a day trip to this summer vacation destination. Of course we are now approaching late fall here in Uruguay and so the weather wasn't exactly beach weather and there were few businesses open with hardly anyone on the streets. So we had the place quite to ourselves.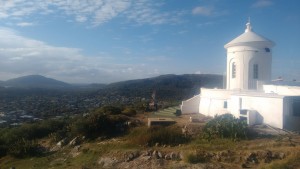 This city is located in the Uruguayan Department of Maldonado and is about an hour and a half from the capital city of Montevideo. The drive was smooth as Uruguay maintains its highways quite well, though they are mostly toll roads and it can cost a bit depending on how far one wants to go.  It was a beautiful day and the sun was out, which made the vistas all the better.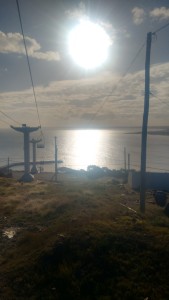 After walking along one of the beaches, we grabbed some lunch and headed out to a local chair lift which ascends a small summit, providing wonderful views in all directions. From the top we could see not only the city below, but also the more famous resort city of Punta del Este off in the distance. Since arriving in Montevideo in October, we haven't seen much of the country outside of the capital. This was a good chance for some of us to get out and see yet another place of beauty that the Lord made. We are grateful to Him that there are so many beautiful places to enjoy and that we can get to them from time to time!