When we boarded the plane to come to Uruguay from Florida in October of this year, I had never actually even visited the country we were intending to make our home. Sure, I did plenty of research–talking to other missionaries, talking to my husband (who had spent all of a week here), and of course getting all manner of opinions from a variety of ex-pats on the internet. So all this to say, Uruguay was very new for me. And there were a lot of surprises–some good, some bad. But I thought it would be fun to come up with ten things I love about Uruguay. Having only been here 6 months, everything is new enough for me that I am not yet taking it for granted and would love to share the best about my new home.
1. The People are Warm and Friendly. Here is the thing–we were told that Uruguay is the most European country in all of Latin America. In so many ways Uruguay sets itself apart from its closest neighbors–in food, in religious make up, in level of education. So we knew all about how warm and hospitable Latin Americans are, but were worried that the people here would be a contrast.  But what we have discovered is that the people here are incredibly kind. Most people are more than willing to help a newcomer. They are willing to chat, even with foreigners, and they are more than willing to share any knowledge or information that may be of help.
2. Chivito Sandwiches. These are often referred to as the national dish of Uruguay.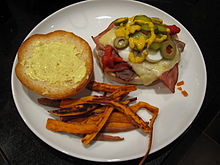 Let's just say, a sandwich with steak, mozzarella cheese, ham, bacon, olives, an egg and mayonnaise is really good. You can read more about them here.
3. Natural, whole foods are (relatively) cheap and widely available. I've already devoted a whole blog post to this topic. Suffice it to say that when all manner of processed foods are super expensive, but natural whole foods are everywhere and more reasonably priced (except whole wheat bread which I have yet to find) it is easy to eat healthy.
4. The beef is really good. Have you been to a Brazilian restaurant? We've only been to once to a Brazilian restaurant, but that is the closest way I could describe the beef here, and the style of barbeque. There are more than 3 cows per person in Uruguay, and all the beef is grass fed, organic by law. And, I have found it to be comparable in price to US beef, even though the quality is much better.
5. Small businesses abound. Small business owners are attentive to their customers, they build loyalty and they take pride in their work. That is why I am happy to do most of my shopping with family owned businesses, where the owners are there and they are eager to make a happy customer. And the small businesses usually have cheaper prices.
6. Breastfeeding in public is not considered obscene. After having been nursing babies for most of the past 17 years, I am relieved to not deal with the stress of needing to balance my babies needs with my desire not to be offensive. Moms here breastfeed their babies without shame, and without smothering the poor baby with a bunch of fabric in his face. I know this may be controversial, but all I know is that as a mother in the US, I always planned my wardrobe carefully, and always had to think about how many hours I would be out of the house, and where I should nurse. On a related note, it is nice to see signs in the stores saying that pregnant moms have priority in line. It is also nice to know that I always get a seat at the front of the bus when I have my baby with me, and when I get on the bus with children I am always allowed to enter first.
7. The beaches. We grew up near the beach. It is nice to be near them again. And although the beach in the city of Montevideo isn't actually on the ocean (it is along the Rio de la Plata) it is still a fun, relaxing destination for the family. And the sand is of a fine consistency that is perfect for making sand castles.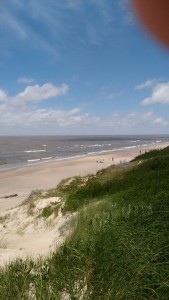 8. The weather. I may change my mind on this one come winter. In fact, it may become one of my top ten least favorite things, as everyone assures us that it is very cold and wet. But this summer anyway has been beautiful. Most days are not too hot (people say this has been an unusually mild summer). When it starts getting super humid and heavy, people start saying it must be about to rain. And low and behold they are usually right, and the rain has the happy effect of bringing the temperature down. So it is warm enough to enjoy the beach, but not so hot that an air conditioner is a must-have item.
10. Public Transportation. This is probably more of a love-hate relationship. Having lived pretty much my whole life in suburbs with a car, I had heard about how wonderful it was to live in a city with efficient and effective public transportation. So I was expecting to be wowed by how wonderful it is to take the bus. It wasn't what I was expecting, to be sure. It isn't nearly as easy with a large family as driving one's own car. I hope to write a blog post about transportation at some point. But it is nice to have the ability to go anywhere in the city without having to drive. I actually don't miss the stress of driving. Taxis are usually riding around in abundance and are very easy to hail. The bus stop near our house has buses that often bring us right where we want to go. But besides buses and taxis, our neighborhood is designed to be able to be walked. We walk the children to their private school, to the various stores that sell groceries, to the mall, and to ballet and karate lessons. So on any given day, we may be out and about in the community and never actually enter a vehicle at all.