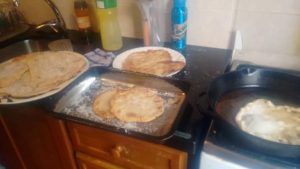 Winter seems to have descended early upon us in Uruguay. The weather has been cold and grey since the baby was born in mid-April. Although winter doesn't officially begin until June 20, I have been watching the weather report every morning for over a month, waiting for a warm day, to no avail.
So what can a summer-loving, sunshine starved family do to pass the time until spring warms us up in another 4 or 5 months? The tradition of eating tortas fritas, or fried tortillas with sugar, is one way to make life more interesting here. I have heard that traditionally if you were out walking on a rainy day you would smell the sweet odor of tortas fritas as you passed by the various houses. While this isn't as true today, what with double income families and busy schedules, tortas fritas are still a much loved food tradition here in Uruguay. I have been *trying* to make tortas fritas whenever it rains. And while it doesn't always happen, it has happened enough to create a fun tradition that helps buffer us against the depressing effects of the weather. And I think several of our children would list tortas fritas as their favorite Uruguayan food.
Before I share the recipe, I want to explain somehing. Many Americans picture the food of South America as being a variation of Mexican food. This actually is not true. South and Central America have many diverse cultures with their own foods. Uruguay has relatively few Mexican restaurants. Mexico is far away and its food is less familiar here. Neither corn nor beans are a staple. Corn tortillas are unavailable and flour tortillas are uncommon. So, although tortas fritas are a fried version of the flour tortillas many Americans are used to, it is enjoyed here primarily as a fried snack or dessert food, rather than as a savory staple.
Tortas fritas are simple to make. For the cook who used to making pie crust or flour tortillas, there is little difference in the dough. It does use lard (which here in Uruguay is beef fat), but one could substitute cooking oil or shortening, if preferred*
3 1/2 cup all purpose flour
1/4  cup beef lard, or shortening
1/2 salt
3 tablespoons warm water (plus enough water to form a smooh dough)
Lard (or oil) for frying,                                                                                                              sugar
Mix the ingredients together to form a smooth dough. Lightly flour your bread board and rolling pin. Form the dough into balls a bit larger than golf ball size. Roll out each ball into a round tortilla of about 15 centimeters in diameter and about 1/2 centimeter thick. Fry in a pan of lard or cooking oil, turning over to make it golden on both sides. Optional: dust the fried tortilla in sugar.
Enjoy the tortas fritas!
*Isn't lard horribly unhealthy? That is a matter of some controversy. Here are two articles with two different views discussing the issue: http://www.npr.org/sections/thesalt/2012/05/02/151868208/lard-is-back-in-the-larder-but-hold-the-health-claims
https://www.thestar.com/life/health_wellness/nutrition/2013/05/14/why_lards_healthier_than_you_think.html