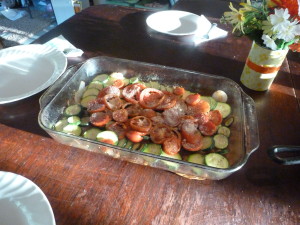 One of the things I enjoy about my life is the challenge of feeding a large family on a small budget. It is fun to shop the sales looking for healthy but inexpensive ingredients, and then turn them into tasty meals for the family. And having lived in quite a few different places, I have learned that for the best deals one needs to eat what the locals eat. That meant for instance, bratwurst and pork steaks in St. Louis, but carne asada and tortillas in Mexico.
Well, after a couple of weeks on the road, with thrown together meals and restaurant food we were ready for some home cooked favorites. We were very graciously given a home to stay in for a few weeks in Alabama which meant I had a full kitchen to cook in. So I asked our family for their requests and made a dinner meal plan accordingly. I completely forgot my rule about regional eating. And so our family walked into the rural Alabama grocery store with a menu plan that included ingredients for tzaziki, tabbouli, hummus, fettucini alfredo, and blueberry cobbler. Oops. We walked out of there having spent too much money, and didn't even get everything on the list. But we did get some okra, collard greens and pecans for an amazing deal. My mistake cost us a little bit of money but I am excited. Yeah, maybe we won't get some of our old favorites, but instead we get to enjoy some new and exciting foods.
One of the most enjoyable facets of culture is food. Take any culture and you'll find how people used what was readily available in their environment to create unique, tasty and nutritious food to feed their family. Just like in the natural world we see the amazing diversity and creativity of the creation and stand in awe of the Creator, so too when we see the amazing diversity of cultures and their foods we stand in awe of the Creator, who sent mankind in the world to "be fruitful and multiply and fill the earth and subdue it." Finding food and making meals is part of what it means to take dominion of the earth. And the diversity we see speaks volumes about the creativity of mankind, who have been made in God's image. So food is one of the things I am looking forward to about moving to Uruguay. I have heard so much about their cuisine and can't wait to experience it first hand, learning some new recipes and figuring out how to feed our large family on a small budget, Uruguay style. In the meantime, you might find me pinning some recipes for some Southern favorites.