Please consider subscribing to receive our blog by email. If you subscribed a year or more ago, but have not been receiving notice from our blog, it is because all of our subscribers were lost and it is necessary to resubscribe.
The long, relaxing summer days are coming to a sudden end. The new school year starts again this Monday. Summer seemed to fly by. It is never long enough. But there is also excitement over new routines and new experiences. In my almost 19 years as a parent, I always saw us as a family of die-hard homeschoolers. But, I am now preparing for our second year in a local, private school. Last year we sent our then 4 and 8 year old children, reasoning that they were young enough to pick up the language. This year we are also sending our 11 year old. It was clear that in order to gain fluency in both the language and culture he had to attend school. Our church plant is small and without any other children, and his weekly lessons weren't enough.
After doing the school routine for a whole year, I think I have a head start on how to organize things. Last year we wasted a lot of time looking for lost uniforms, shoes, lunch supplies, etc. So this year I hope to have a place for everything, and everything in its place.  The children's school meets for half days. The two older ones will go from 8:30am to 12:30pm, and the youngest from 1pm to 5pm. However, since it is hard to fit their work into just 4 hours, they will be notifying us soon of the afternoons that the older children need to stay. I am guessing they will be staying later 2-3 days per week, for classes such as English or music. But only time will tell what their schedule will be.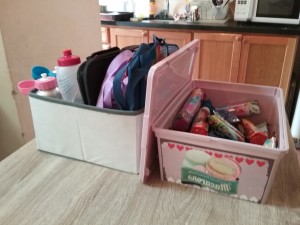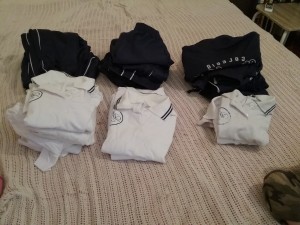 I want to thank those of you who have been praying for our children's adjustment in Uruguay, and in school. Our 11 year old, who will be starting school for the first time, is quite nervous, of course. We were surprised when we went to the school office a few weeks ago, and were told that there will be a new boy in his class who lived in the US! Considering this is a very small school (about 10 kids per class) who have never had any foreigners (except for our children) this is quite unexpected. We hope they will be a blessing to each other. And, more importantly, it reminds us that God takes care of our children. One of the challenges of being a missionary is worrying about one's children. Being a missionary kid has many blessings–a bigger view of the world and its cultures, the opportunity to gain fluency in a second language, and the opportunity to serve God. But there are also difficulties and things they give up. Fluency in a second language is not nearly as easy for children as people say. It can easily take 2 years to be truly able to do school work well in the second language. The older ones can have trouble making friends here, and they very well may have trouble making friends when they eventually return to the US, as they have not kept up with US culture. The struggles remind both we as parents, and our children, of our need to trust God–to trust Him for their present struggles, and their future well being. We invite you to join us in praying for our children, that the Lord would take care of their needs, make himself known to them, and that we would all trust in Him.