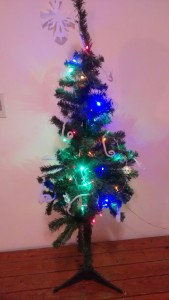 Though the Christmas season in the U.S. has come to an end, here in Uruguay we have at least one more day until it passes. Tomorrow is the Day of the Kings, a holiday where the gift giving surpasses even that of Christmas in much of Latin America. It refers to the Magi who visited Jesus and gave gifts of gold, frankincense and myrrh. As the season comes to an end and we look back over the past couple of weeks, we thank God for the blessing of having celebrated our first Christmas here in Uruguay. We had been in our new house a little over a week when the special day arrived. We were scrambling to get our home livable, work on residency requirements, while also creating as "normal" of a holiday as possible for the sake of our children.  As much as I felt like I wouldn't have minded postponing the celebration a bit, I do love Christmas. I love the opportunity to remember and reflect on the incarnation of Jesus, possibly even more this year, as it is easy to become distracted with the more immediate details of living life. My favorite family tradition is the singing of Christmas carols. We like to sing them together the whole month of December. The songs remind us of the powerful message of redemption and hope that Jesus brought as He was born into the world. His coming was first prophesied all the way back in Genesis 3:15 when Adam and Eve sinned–and all of history until the incarnation was looking forward to that moment, and all of history since has been looking back on that moment. The Christmas songs are such a powerful reminder of grandeur of this event.
Being so new to Uruguay meant that we focused on keeping our own familiar traditions. But there was one special tradition in Uruguay–that of celebrating at midnight with fireworks–that we decided we did not want to miss. We decided we would stay up late and watch them from our roof, since our roof (like many in Montevideo) is flat and set up to be used as a patio, and has a wonderful view of the city.
We didn't really know what to expect, and we certainly didn't expect it to be as beautiful as it was. We went up about 11:40pm. The quantity of fire works going off in all directions was breathtaking. As midnight approached, the quantity steadily increased. There were a few members of our family who were sick in bed and the toddler was sleeping. But there was no sleeping through the noise, and by midnight everyone had joined us on the roof. Nothing we have experienced before, in terms of fireworks presentations, could have prepared for what we saw. It was amazing. In every direction there were flashes of light and color, and noises in everywhere, near and far. The sky was filled with smoke. In Uruguay individuals can purchase and use fireworks which would only be available in the U.S. to professionals planning huge fireworks shows. It looked like a great celebration filled with happiness and joy.
It was very emotional for us to see such a grand celebration being put on for this most important event of human history. I know that  most people in what has been  called "the most secular nation in Latin America" were not celebrating Jesus.  But a prayer welled up in our hearts, that one day the people of Uruguay would be filled with joy and amazement at Jesus' coming in to the world to save sinners and they would bend their knees in worship of the Triune God. And indeed, not only in Uruguay – we long to see worshipers of the Living God all over the world that He created. As John Piper has said, "Missions exists because worship doesn't." Our whole purpose in missions is to see more and more people worshiping God in spirit and in truth. It starts with us–it is our prayer in 2015 that we ourselves would be taken with worship of the Lamb. It is easy to let the mundane but immediate details of this life overwhelm us and cause us to lose sight of God. Would that our hearts would be filled with love and awe for our King! We also pray that many people in this land would come to know and worship Jesus. Would you join us in these prayers? And if you do not count yourself among the worshipers of Jesus Christ, I invite you to consider our Creator God, to consider Jesus who came into the world to save sinners, and to consider your own eternal destiny. Our own sin is dark and offensive, but Jesus came to pay the penalty for these sins. Jesus offers forgiveness of sins now to anyone who will put their faith in Him!