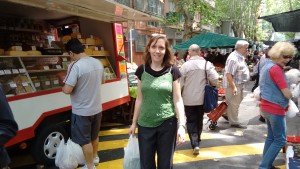 One thing that has been very different in our South American home is shopping for food. It has been different, and honestly, fun. First of all, we don't have a vehicle. That has made a big impact in what shopping for a family of nine looks like. I never before in my life gave a thought to how heavy food is, until I had to carry it all home. Now, thinking about the weight of my purchases is part of the daily routine. Another daily feature of life is whether we have small cash on hand. Our bank gives us money only in bills of 1000 pesos (about $45 US dollars). This is too much for all but the largest stores to accept, making it a constant battle to keep small enough bills on hand, for shopping or taking buses and taxis.
Another adjustment is that large stores typically have higher prices, and smaller, mom-and-pop stores are cheaper. In a country where food prices are high, and processed, packaged and manufactured food and goods can be twice as much or more than in the US, it is important to find the good deals. But this is where the fun part comes in. I always wanted to support the small business owner, but in the US, let's be honest, as a family of nine living on a tight budget, Walmart is where it is at. But not so here. There are Walmart type stores, and they even deliver, so we do go now and then to stock up. But the bulk of our food buying, at least at this point 3 months into life in Uruguay, is done in our neighborhood–at the local grocery store, the corner convenience store, the bakery, the butcher shop and the feria. Whereas in the US it seems like junk food is so cheap, here in Uruguay it is fresh, real food that is the best deal and the small business owners that sell is for the cheapest.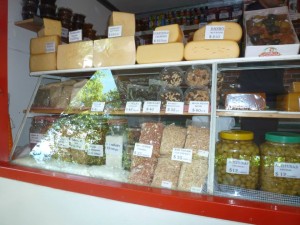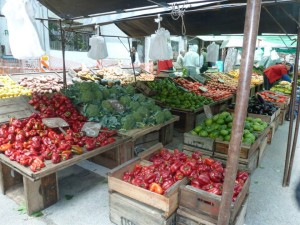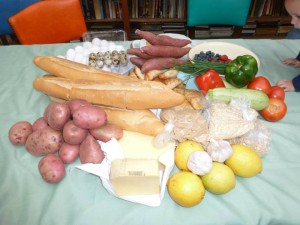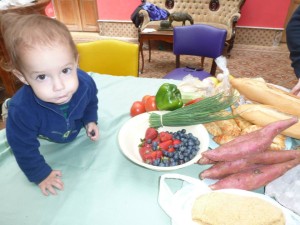 What, you might ask, is a feria? In short, it is an outdoor farmer's market where the prices are cheap and the selection is wide and varied–think produce, meats, cheeses, eggs, clothes, household goods, used items, and more. It is  common in neighborhoods all over Uruguay. The first house we stayed in had one feria on Tuesdays and another on Fridays. Our new neighborhood has one that is held once a week, about a block from our house. It is certainly a new way to shop for me. There are many venders, each taking cash only, in fairly small bills. They will deliver. I have tried that a few times, but have not yet worked it into my routine because I don't like to wait at home for the delivery. So typically I make 2-3 trips, carrying my purchases in a piece of luggage. Each vender is friendly and helpful, working to build customer loyalty, as there are many vendors selling similar goods.I am still busy working on my shopping routine. It seems like most of each day for me is spent on buying food and making meals. I am hard at work trying to make things a little more efficient. I have made a master shopping list (something I have done for many years, updating it each time we move to a new place, where I include pretty much all grocery store items I ever get). I am hoping this list will help jog my memory and cut down on the little trips to the store. I have also begun a list on the refrigerator, where I put everything we are running out of. When I go to a store, I cross out whatever I was able to buy from that store, and leave on the list whatever I was not able to acquire–helpful because there are so many different types of stores with such a different selection of goods. And a lot of being more efficient is learning where to buy what. Eggs are among the harder purchases, for example, because they are so fussy, needing to be on the top of my luggage, and because even with all the fuss one or two always break. So I have been experimenting with buying them at the corner store, since the kids usually do that shopping and it is so close, making it a time saving way to buy the eggs, I think. No doubt there will be much tinkering of my food buying routine in the months and years ahead. I am very thankful that for all the time it takes, food shopping here is a rewarding experience.