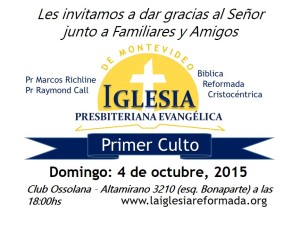 The day was bright and sunny but rather cold. I had walked my daughter to her ballet lessons and decided to visit some of the local businesses where I had met individuals over the course of the past 10 months. I was hoping to hand them a flyer and invite them to our first official worship service this coming Lord's Day. We have been working on a new church plant in the neighborhood of La Blanqueada in the city of Montevideo – the capital of Uruguay.
Though we have made several contacts in the community, we still have no core group of folks other than our two missionary families. Of course, we just began working in earnest on the new work a few months ago, but we were hoping that the Lord would send us some mature Christians as well as new believers (through evangelism) by now. Our prayer is that we might see the miracle of regeneration before our very eyes as our gracious and sovereign God brings people to faith in the Lord Jesus. There are so many that are living apart from Christ and have no idea of their need – either completely oblivious or actively suppressing the knowledge of God. Thankfully, we have faith that the Lord is able to change their hearts and know that no matter how opposed or apathetic to the gospel they seem, the Lord can use us to challenge them to turn their attention to the things of God. Like the Apostle Paul, they may be "kicking against the goads"  (Acts 26:14) but the Lord can suddenly intervene and turn their lives upside down.
After dropping off my daughter, I entered a store to invite a clerk that I had spoken with on a number of occasions. When I offered him the flyer, he would not take it. It turns out he is a Roman Catholic and is opposed to even accepting the flyer, much less visiting the church. Another encounter was with our veterinarian. She was kind to take the flyer, but explained that she does not practice any religion. I assured her that everyone is invited, whether they have a religion or not. Another stop took me to the bakery where I invited the owner. He said he would be working during our worship service. Coming to the hardware store I was surprised that it was closed already. I'll have to pass by there another time to invite my friend the hardware owner. He is very interested in religions of all sorts – meeting with an Eastern meditation group and studying the Bible with Jehovah's Witnesses.
One benefit of doing this has been the opportunity to learn about the trials of neighbors. One shop owner shared with me that his mother is in very grave condition in the hospital. A neighbor shared with me that his son (who is about my age) is in the hospital for heart problems. They aren't sure what the treatment will be or how serious it is yet. I assured both the shop owner and my neighbor that I would be sure to pray for their loved ones. We live in a lost and fallen world where suffering is everywhere, but we hope in Christ who has come to offer grace and eternal life to broken sinners. I am thankful that in the age to come there will be no more suffering nor sin (Rev. 21:4). I'm also thankful that we can share the message of the hope of Jesus (John 3:16; Rom. 5:8; Rom. 10:9-10; Rom. 1:3-4) with others in this age and pray that all God's people (including myself) will remain faithful, all the while praying for more boldness (Eph. 6:19-20) and open doors for the gospel!