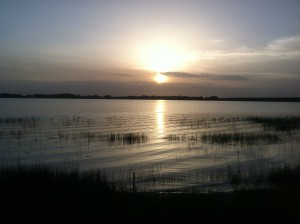 As we watch God at work we sense that our time in the U.S. is drawing to a close and we are getting closer to departing for Uruguay. We received some good news this last week while we were on our way to Florida. Our support has bumped up significantly. We are now at 91% of our support goal. All praise be to the Lord! What does this mean? This means that the time has come for us to get serious about the big move. Time to figure out what to do with our van and camper. Time to figure out what kind of baggage we will bring with us and how in the world we will get it to the airport (we are allowed 18 pieces of check-on luggage, 9 pieces of carry on luggage, 9 purses or backpacks, not to mention the car seats and stroller). Time to figure out how we will fit in to the ministry in Uruguay. But not yet time for Ray to stop support raising and traveling, nor for me to end school for the children. So yes, it is time to be busy.
We took the sunset picture one evening when Ray and I sat in front of the Lake where we are staying at our friends' house in Florida. We took our first sunset picture in 2014 on January 1 on the Pacific Ocean in San Diego. This is the biggest year of travel and transition we have had. We decided to try to take sunset pictures in as many locations this year as we could. It helps serve as a reminder to us not to get so caught up in the details that we cannot see the big picture. Sunsets remind us that the long to-do lists and the little frustrations of daily life are not all there is. I especially often struggle to see the forest from the trees. Sunsets remind us of the great God that we serve, who graciously allows us give our lives for something greater than the day-to-day grind.
O Lord, my heart is not lifted up, my eyes are not raised too high; I do not occupy myself with things too great and too marvelous for me. But I have calmed and quieted my soul, like a weaned child with its mother; like a weaned child is my soul within me. O Israel, hope in the Lord from this time forth and forevermore." (Psalm 131)
So we would ask for prayers that our focus stays on the greatness of God. That we have wisdom in planning innumerable details. That our final support comes in quickly. For safe travels–Ray flies to Mississippi this weekend; we all drive to South Carolina mid-July; and Ray is actively trying to set up speaking opportunities wherever he can in the next two months.
We are tentatively planning to be at 100% of our funding and ready to leave for Uruguay in the first week of September [Update: we have moved the date to October]. In the mean time we are trying to take a deep breath and remember to give thanks and praise to the all-powerful and all-loving Creator.