One of the hallmarks of missionary life is the inevitability of saying goodbye. Things change fast in the world of missions, and missionaries must be able and willing to move. Indeed our family has moved many times in our 16 years of being in ministry. While we are not moving now, we have been saying goodbye to family–our actual family and our missionary family. First, our oldest daughter, Rebecca left at the end of December for the United States. Ray went with her and dropped her off at her grandparents' house. They then took her to the dorms at Providence Christian College in Pasadena, where she started her first semester of college. While we are all excited for her and her new adventure, we are not accustomed to being apart. We hope and expect that she will be able to visit us annually. Between those visits, we are making use of Skype and Messenger to keep in touch. She is especially sad to that she will miss the birth of our baby in April. It is both exciting and sad to launch our first child out into the world!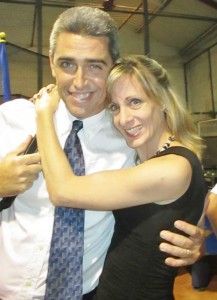 Next, we have said goodbye to our missionary teammates, Mark and Jeni Richline and their children. This is just a temporary goodbye, as they will return from their furlough in one year, Lord willing. Furlough, or home ministry assignment, typically happens for a year after every forth year. From the perspective of settling in and doing the ministry, sometimes furlough can feel like an intrusion. But it is a vital time for missionaries to do ministry to the churches back home. It is also a time for missionaries to reconnect with their families, and for their children to be a part of their home culture, if even just for a short time. And it is a good reminder that long-term ministry is in the hands of the nationals.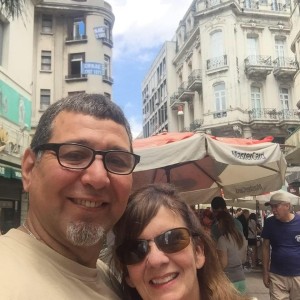 But it isn't all sad. We have also had and will have some hellos! Ray's Mom and her husband came to visit us for 3 and a half weeks in December. It was so fun for us to share our new country with them and to see them after 2 years apart. As soon as they left we had the privilege of saying hello to a new missionary intern, Akerra Tarver.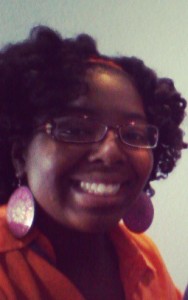 She will be with us just two weeks, as she is in the midst of an exchange program in Buenos Aires. She is helping us with another hello–we are saying hello to our new teammates, Markus and Sharon Jeromin and their four children.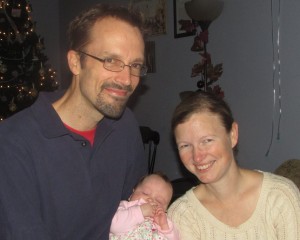 As I write they are in the middle of traveling here from Michigan. They will be serving here in Montevideo with us for the year that the Richline family is absent. We are looking forward to getting to know them, and to having their help with the work of church planting.
In the midst of all these hellos and goodbyes, we cannot forget that our permanent home is in heaven. Everything in this world is temporary, and the missionary lifestyle is a constant reminder of this. I have also been hard at work during the past few weeks at trying to organize and decorate our home. This probably sounds strange being that we've been in Uruguay for 15 months! But the truth is our house was under construction until April. We worked hard to get it furnished after that in the midst of busy schedules, and then I was dealing with morning sickness for 3 months. So this summer vacation (December to March) is my time for making our house into more of a home.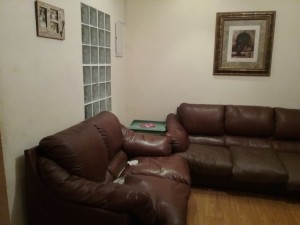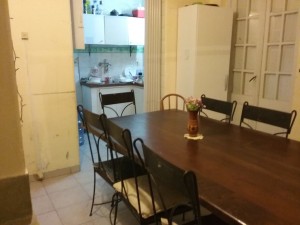 I am enjoying putting up wall hangings, and trying to come up with more logical ways to deal with a home that has no closets( ie, how to make it not look cluttered).
As I work on our home, I can't help but remember our nomadic lifestyle. It takes some discipline for me to want to invest in our home, since I know we will not be in it forever. But this too is a reminder that I trust in the Lord, not in the feeling of "putting down roots". So as we say our goodbyes, we say our hellos and we settle into our house, we are constantly reminded of the reason we are here. We are working to see Jesus proclaimed and worshipped in our small area of the world in Uruguay. Please pray that we will keep our focus on Jesus and on our work of proclaiming Him as Lord, and that the Holy Spirit will be at work to draw many people to Christ, even in this new year.