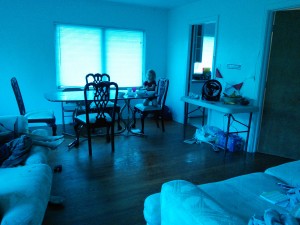 What does it mean to be settled? Certainly for a missionary, it means something a little different. In 2014 "settled" hasn't been on the menu in the Call family! Here is a picture of the place we are calling home right now. In the picture we are about to start breakfast here in the apartment that we have been at since mid-June, on the property of some dear friends in Florida. While we are super thankful to the Lord for the blessings of being here near friends as we finish our Home Ministry Assignment and prepare to leave for Uruguay, we are not quite settled, both because of the tight squeeze and because we know it is only temporary.
We are right at the cusp of getting the 100% we have needed to get our approval to leave, and preparations are starting in earnest. Much thanks to all of you who are helping to make this last 10% come in! We are praising the Lord for His faithfulness! As I write, I am in the car as our family makes the 9 hour drive to Greenville, South Carolina, to visit a church. This, Lord willing, will be our final road trip as a family in the USA for the next 4 years or so. There are many changes ahead!
I think if you were to ask our family what they are looking forward to most, being settled would make it to the top of the list for everyone old enough to articulate their feelings. We have known there would be a move coming up for at least a few years. That means not putting down roots. It means saying goodbye. It means not being able to picture what life will look like 2 months from now. Or one year from now.  It is not all bad, or course, and we have enjoyed our travels. But being settled is always a desire deep in our hearts.
And finally, the move is almost here (in October, Lord willing). When we step on to the airplane to Uruguay, the goodbyes will be over, and it will be time to begin the "hellos". It will be time to begin the process of getting settled in. And there are a few things that we will be bringing that are all about helping with this. The girls and I bought some fabric that we want to use to decorate with. I have had an unfortunate habit during these past 7 years of moving around of not decorating or putting much on the walls. I am hoping to put more effort into making our house feel like home. We are hoping to rent a temporary furnished place to stay in when we first arrive. So it may be a few months–maybe even 2015–before we actually find a regular home to rent, something with some level of permanence. We also are bringing some herb seeds. There is no guarantee that we will have much or any outside area in the house we rent. But the seeds represent the hope that we can somehow manage to grow some herbs at least. This is something important to our older boys.
So while we do what we can to be patient in getting settled in, we are ultimately reminded that we will never be genuinely settled in this life. And this isn't because we are missionaries. Sure as missionaries we may feel it more acutely. But the reality is that this world is not our home, and God has put a longing for a better home deep within the hearts of all mankind–"he has put eternity into man's heart" (Ecc. 3:11). As Christians we have the hope that we will experience our true home in Heaven with our Lord and Savior Jesus Christ. So while there are many uncertainties and hopes and dreams for us in this life, those of us who trust in Christ have a firm confidence that God will be faithful to fulfill his promises to us concerning our heavenly home – and that puts "not yet settled" into perspective!
"But our citizenship is in heaven, and from it we await a Savior, the Lord Jesus Christ, who will transform our lowly body to be like his glorious body, by the power that enables him even to subject all things to himself." Phil. 3:20-21