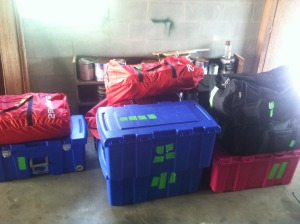 Years ago, when Grey Davis first became governor of California, I remember reading a newspaper article which voiced the concern that Governor Davis might become "lost amid the paper clips" – that he would be so focused on managing the details that he could lose sight of the big picture. Since we moved out of California soon after this, I did not follow whether this humorous prediction came true. However,  I always remembered what it said. It stuck out to me because of my own tendency to "get lost amid the paper clips". Ray is the visionary; I am the one thinking in details. If there was a great tornado coming, I would be the one not gathering my children and fleeing, but making sure we had some snacks and extra blankets to take with us.
So as we are down to just 2 weeks left in the US, there is quite a large pile of paper clips for me to get lost amid. There are a whole bunch of tasks that we are doing for the first time, desperately trying to make sure each and every detail is properly accounted for. We already have over a dozen pieces of luggage packed, each weighing just under the 50 pound limit. We are trying to arrange temporary housing in Uruguay. There is also the detail of arranging to sell our van and camper. Documents must be gathered for our visas. We must estimate how many vehicles we need to travel to the airport. I am trying to juggle what school subjects for the children need to be focused on. I am making plans to use up what food we have here, and am making a menu plan for when we arrive there. I am thinking through snacks and toys to entertain the young ones on the plane. I'm obsessed with thinking not only about what bare bones outfits we need to wear now, but also what we need to have available for the colder weather in Uruguay. And the list goes on and on and on….
So as I lose sleep over making sure the paper clips are being properly organized, the deeper questions of life get pushed to the side, left uncontemplated day after day. Only on Sundays are the paper clips pushed to the side and the worship of God breaks through. On this one-day-in-seven we attend worship service and spend the day in rest, purposely not thinking about or working on our pile of paper clips. It is so easy for me to forget the big picture of why we are moving to the country of Uruguay, of who I am before God and what He wants from my life. We were not created to be focused only on getting the next day's work successfully completed, or on surviving to the weekend, or even on enjoying the beauty and wonder of this world.  Even in the midst of the busyness, I never want to lose sight of the big picture – of how He sent Jesus into this dark, sinful world to redeem sinners such as I. Our Almighty God has given us so many precious promises, promises that we can stand on during those times that are we are walking by faith, doing what we would never do apart from the call of God. Some of my favorite promises? Those found in Luke 12:22-34, 2 Cor. 3:1-18, 4:1-18 and Romans 8:1-39. So as we take this plunge into our new adventure, I try to stay focused on the big picture – the vision of a life lived for the Lord, while also taking care of the details without getting lost in them. I invite you to also take a rest from your daily life, to look at who you are before a holy and loving God and to delve into God's Word to learn the truths that He has provided for us to learn from.